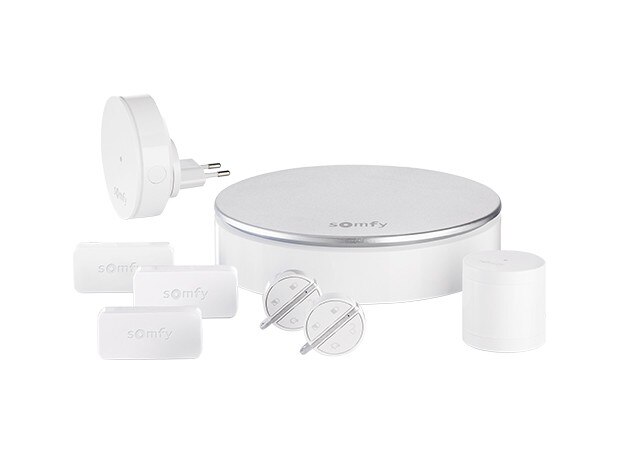 Ref: 2401511
Somfy Home Alarm Starter PACK
Somfy Home Alarm Starter PACK
Complete security solution alerting you BEFORE a break-in
Benefits
Dissuade burglars by alerting BEFORE a break-in
The Home Alarm system detects break-in attempts BEFORE an intrusion thanks to its IntelliTAG™ door and window sensors. This patented sensor analyzes vibrations and alerts (local sirens and transmission of smartphone notifications) if a break-in attempts is proven to have occured.
Thanks to the hands-free disarming key fob, the system recognises users and automatically disarms the alarm when they come home. With the kids feature, you receive a notification on your smartphone as soon as your children come home from school.
Create a community of trust to watch over your home
The Somfy Alarm kit is the first system that allow your loved ones (friends, neighbors, family etc.) to keep an eye on your house when you are away. You can also take advantage of an on-demand remote surveillance servic without any commitment (subject to subscription).
Based on your needs, you can complete your Home Alarm system with "Somfy Protect" security accessories sold separately: 112 dB outdoor siren, additional 110 dB indoor siren, IntelliTAG™ sensors, key fobs, indoor motion sensors, surveillance cameras etc.
Detalji i specifikacije
THE HOME ALARM IN A NUTSHELL
The Somfy Home Alarm is a smart, reliable security solution that alerts you BEFORE a break-in, thanks to Somfy's patented IntelliTAG™ technology.
Once connected, the Home Alarm is very easy to install and control from your smartphone. It is ideal for a house and can be adapted to suit your needs by adding products from the "Somfy Protect" accessory line.
Installation
Free application for iOS 9 and higher, Android 4.4 and higher
Automatic recognition of peripheral devices by the hub
Scability
Combine with up to 50 sensors (IntelliTAG™ or motion sensors) 50 key fobs, 2 indoor sirens and 2 outdoor sirens, 4 video devices (Somfy Security Camera, Somfy One or Somfy One +) and 2 radio extenders.
Wireless
Bluetooth 4.0
"Somfy Protect" 868Mhz radio module
868Mhz long-range LPWA communication
Security
Power outage detection and backup battery (6 hours)
Permanent supervision of wireless radio connection between the various system components
Jamming detection/encryption of all wireless radio communications
Radio ranges
200m (in open air) between the Link and the IntelliTAG™ sensors, the siren and the motion sensor
50m (in open air) between the Link and the key fobs
Compatibility
"Somfy Protect" and "Myfox Home Alarm" security accessories TaHoma - Nest - Amazon Alexa - IFTTT
<ul>
<li>1x 110 dB indoor siren</li>
<li>3x IntelliTAG&trade; opening sensors</li>
<li>2x key fobs</li>
<li>1x indoor motion sensor</li>
<li>1x Link (the hub, which can be easily plugged into an electrical outlet)</li>
</ul>