Diskretni bežični senzor za sunce
Sunis Wirefree io je bežični senzor za sunce za roletne, balkonske tende, spoljne zasenčivače i motorizovane spoljne venecijanere.
Kreirajte svoje scenarije uz Connexoon Patio io
Uz aplikaciju Connexoon Patio, istovremeno rukujte tendama za terasu, senzorima i osvetljenjem, tako što ćete kreirati sopstvene prilagođene scenarije koje ćete stalno ponovo puštati!
Maintain the look of your home's exterior
Sunis Wirefree io is a discreet wireless sun sensor which can be positioned anywhere on the exterior of your home without an electrical connection.
Automate the movement of your blinds, screens, awnings and shutters
With the Sunis Wirefree io sun sensor, your roller shutters will automatically lower once the sun hits your picture windows, keeping the inside of your home cool.
Enjoy your patio without being dazzled by glare
With the Sunis Wirefree io sun sensor, the patio awning will automatically extend when the sun rises. You can continue to enjoy your patio while avoiding sunburn!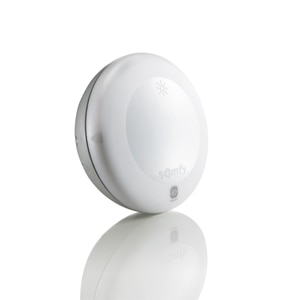 Ref: 1818285
Wirefree sun sensor for roller shutters, blinds and awnings

Sunis Wirefree II IO sun sensor monitors light intensities. Set scenarios for detection of high lux, so blinds come down automatically for sunny days or for dusk etc.

Description
Wireless sun sensor for TaHoma.
Wireless facade sensor. Can be placed anywhere. No cabling.
For quicker installation and more efficiency. Put it at the right place.
Sun detection
Automatically lowers or raises the applicationd depending on the intensity of the sunshine and a threshold pre-set by the installer.
This new generation of sun sensor can be programmed directly through the Somfy Smart Home control, TaHoma.
The sensor is powered by 2 LR06 batteries.
Settings from a distance
The sun sensitivity threshold can be adjusted via TaHoma
You have the choise between the standard sun function without feedback and the comfort sun function with feedback in combination with the Smart Home systems from Somfy.
Easy activation and deactivation of the sun function.
Benefits
In harmony with your facade
No unsightly cable out, small and discrete cable to be positionned anywhere on the facade
Comfort
Protect the terrace, the facade and the inside of your house from luminosity, UV radiations and temperature
Dynamic summer insulation
During summer, gains up to 9°C inside the house and thus reduces the need for HVAC
Technical characteristics
Boja/finiširanje : Light grey/white
Dimenzije i težina
Dužina : 78 mm
Širina : 78 mm
Dubina : 37 mm
Dokumenti za preimenuvanje
Act_For_Green_-_Sunis_Wirefree_2_io.pdf (23/11/2018)

Download
Pronađite montažera u blizini
Dvoumite se? Kontaktirajte nas. Pomoći ćemo vam da pronađete najbolje rešenje za vaš projekat!
Obratite se sertifikovanim profesionalcima u vašoj blizini koji će sprovesti vaš projekat ili uneti popravke!