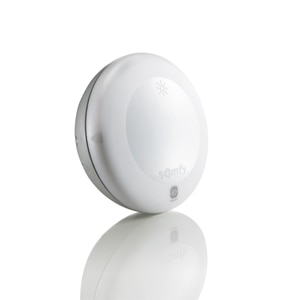 Ref: 1818245
SUNIS WIREFREE io
The wirefree sun sensor for awning, screen, evb and roller shutter
The wirefree sun sensor for awning, screen, evb and roller shutter. Discrete and wireless sun sensor on facade: no cable and brings efficiency where needed.
Applications
Interior blind and curtain, Rolling shutter, Conservatory, Exterior blind, Patio blinds
Benefits
In harmony with your facade
- No unsightly cable out, small and discrete cable to be positionned anywhere on the facade

Comfort
- Protect the terrace, the facade and the inside of your house from luminosity, UV radiations and temperature

Dynamic summer insulation
- During summer, gains up to 9°C inside the house and thus reduces the need for HVAC
Detalji i specifikacije
Wireless
- Wireless facade sensor. Can be placed anywhere. No cabling.
For quicker installation and more efficiency. Put it at the right place.
Setting from a distance
- The sun sensitivity threshold can be adjusted via the Easy Sun io remote control.
Sun detection
- Automatically lowers or raises the application depending on the intensity of the sunshine and a threshold pre-set by the installer.
Dužina : 78 mm
Širina : 78 mm
Visina : 37 mm
Technical characteristics
| | |
| --- | --- |
| Radio frekvencija | 868.25MHz/868.95MHz /869.85MHz MHz |
| Nominalni napon/Frekvencija | Battery |
| Faktor zaštite | IP 35 |